As a rule, this error occurs at the beginning of the washing process. You start the wash as usual. But instead of washing, your Samsung appliance issues the D5 error. In particular, if this happens for the first time, the error may appear directly during the washing process.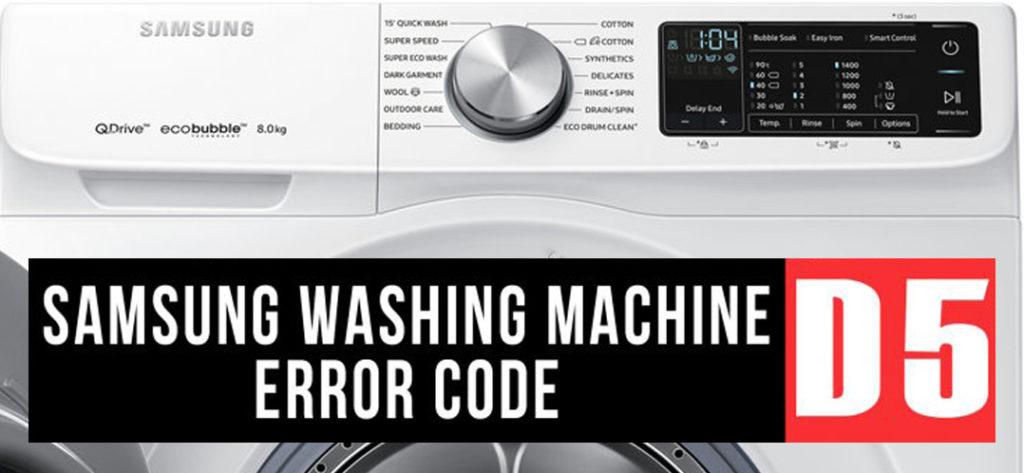 The D5 error appears in Samsung washing machine. What to do?
What happens when the error occurs:
It is not possible to close the washing machine door;
The door is closed but is not blocked;
A washing machine doesn't open the door after washing.
If there is no screen in your Samsung washing machine, indicate the error by the flashing of all mode indicators. Also, the constant burning of the temperature indicators signals about the fault.
What does the D5 error code mean?
All variants of codes denoting this error state the same thing. So, the machine can't close or lock the hatch door. In a small number of cases, you can eliminate this fault yourself. But more often users have to ask professionals for help.
Cases in which you can eliminate the D5 error without any help:
Make sure that foreign elements don't prevent the door from closing. Note that laundry can be this element.
The problem may be in the control unit of the machine. You should try to give it a "break." For this, unplug the power for a few minutes and switch it on again. This option can help if the D5 error occurs for the first time.
Perhaps the problem is electrical. Check the contacts of the door lock, also called a device that blocks the hatch.
Possible faults that are subject to repair:
This table lists the most common faults in which the Samsung washing machine generates the D5 error:
Signs of error
Possible causes of occurrence
Replacement or repair
The machine doesn't lock the hatch. The D5 fault lights up on display.
The problem relates to the hatch locking.
Replace the lock that closes the door.
The washing is completed, but the door doesn't open. A user indicates the error.
Samsung washing machine produces the D5 error at the very beginning of the wash.
A chip is out of order. In other words, it is called an indicating module.
Most likely, you will repair the module. To do this, replace the burnt out radio elements on its board. In rare cases, the module requires replacement.
A user can't close the washing machine since the lock head doesn't fit the door lock. The appliance issues the D5 error code.
It can happen in case of physical pressure on the hatch.
Repair or replace the door hook.
There is mechanical damage to a lock. Due to this, the hatch of the device is not closed or fixed by a click.
The lock has broken.
Repair or replace the lock.
The error is unstable. It appears and then disappears.
There is the wiring breakage, starting from the locking device to the control unit.
Replace the wiring or repair the current one.



Find your City in this list:

Addicks

,

Addicks Barker

,

Aldine

,

Alief

,

Ashwood

,

Astrodome

,

Atascocita

,

Bammel

,

Barker

,

Beach

,

Beasley

,

Bellaire

,

Bobville

,

Booth

,

Bordersville

,

Brazoria

,

Brookshire

,

Bunker Hill Village

,

Camp Strake

,

Channelview

,

Clark

,

Clear Lake City

,

Cleveland

,

Clodine

,

Cloverleaf

,

Clutch City

,

Conroe

,

Crabb

,

Cut and Shoot

,

Cypress

,

Dacus

,

Damon

,

Danciger

,

Dayton

,

Decker Prairie

,

Devers

,

Dewalt

,

Dobbin

,

Dogwood Acres

,

East Columbia

,

Eastgate

,

Evergreen

,

Everitt

,

Fairchilds

,

Freeport

,

Fresno

,

Fulshear

,

Grangerland

,

Greens Bayou

,

Greenway Plaza

,

Guy

,

Hedwig Village

,

Heights

,

Hempstead

,

Highlands

,

Hilshire Village

,

Hockley

,

Houston

,

Houston Heights

,

Howellville

,

Huffman

,

Hufsmith

,

Humble

,

Hunters Creek Village

,

Jacinto City

,

Jersey Village

,

Katy

,

Kendleton

,

Kingwood

,

Klein

,

Kohrville

,

Lakeland

,

Long Point

,

Lyndon B Johnson Space Cen

,

Magnolia

,

Meadows Place

,

Memorial Park

,

Midline

,

Missouri City

,

Monaville

,

Montgomery

,

Nassau Bay

,

Needville

,

New Caney

,

North

,

North Cleveland

,

Old Brazoria

,

Old Ocean

,

Orchard

,

Panorama Village

,

Panther Creek

,

Park Row

,

Pattison

,

Patton

,

Pinehurst

,

Piney Point

,

Pleak

,

Plum Grove

,

Porter

,

Powell Point

,

Prairie View

,

Rayburn

,

Rayford

,

Richmond

,

Romayor

,

Rose Hill

,

Rosenberg

,

Rye

,

Satsuma

,

Security

,

Sharpstown

,

Sheldon

,

Simonton

,

Sorters

,

South Houston

,

Southside Place

,

Splendora

,

Spring

,

Spring Valley

,

Stafford

,

Sugar Land

,

Sugar Valley

,

Sunny Side

,

Sweeny

,

Tamina

,

Tarkington Prairie

,

The Woodlands

,

Thompsons

,

Timberlane Acres

,

Tomball

,

Trammells

,

Valley Lodge

,

Waller

,

West Columbia

,

West University Place

,

Wild Peach Village

,

Willis

,

Woodbranch

,

Woody Acres

,




Find your Zip Code in this list:

77002

,

77003

,

77004

,

77005

,

77006

,

77007

,

77008

,

77009

,

77010

,

77011

,

77012

,

77013

,

77014

,

77015

,

77016

,

77017

,

77018

,

77019

,

77020

,

77021

,

77022

,

77023

,

77024

,

77025

,

77026

,

77027

,

77028

,

77029

,

77030

,

77031

,

77032

,

77033

,

77034

,

77035

,

77036

,

77037

,

77038

,

77039

,

77040

,

77041

,

77042

,

77043

,

77044

,

77045

,

77046

,

77047

,

77048

,

77049

,

77050

,

77051

,

77052

,

77053

,

77054

,

77055

,

77056

,

77057

,

77058

,

77059

,

77060

,

77061

,

77062

,

77063

,

77064

,

77065

,

77066

,

77067

,

77068

,

77069

,

77070

,

77071

,

77072

,

77073

,

77074

,

77075

,

77076

,

77077

,

77078

,

77079

,

77080

,

77081

,

77082

,

77083

,

77084

,

77085

,

77086

,

77087

,

77088

,

77089

,

77090

,

77091

,

77092

,

77093

,

77094

,

77095

,

77096

,

77097

,

77098

,

77099

,

77201

,

77202

,

77203

,

77204

,

77205

,

77206

,

77207

,

77208

,

77209

,

77210

,

77212

,

77213

,

77215

,

77216

,

77217

,

77218

,

77219

,

77220

,

77221

,

77222

,

77223

,

77224

,

77225

,

77226

,

77227

,

77228

,

77229

,

77230

,

77231

,

77233

,

77234

,

77235

,

77236

,

77237

,

77238

,

77240

,

77241

,

77242

,

77243

,

77244

,

77245

,

77248

,

77249

,

77250

,

77251

,

77252

,

77253

,

77254

,

77255

,

77256

,

77257

,

77258

,

77259

,

77261

,

77262

,

77263

,

77265

,

77266

,

77267

,

77268

,

77269

,

77270

,

77271

,

77272

,

77273

,

77274

,

77275

,

77277

,

77279

,

77280

,

77281

,

77282

,

77284

,

77287

,

77288

,

77289

,

77290

,

77291

,

77292

,

77293

,

77297

,

77298

,

77299

,

77301

,

77302

,

77303

,

77304

,

77305

,

77306

,

77315

,

77325

,

77327

,

77328

,

77333

,

77336

,

77337

,

77338

,

77339

,

77345

,

77346

,

77347

,

77353

,

77354

,

77355

,

77356

,

77357

,

77362

,

77365

,

77368

,

77369

,

77372

,

77373

,

77375

,

77377

,

77378

,

77379

,

77380

,

77381

,

77382

,

77383

,

77384

,

77385

,

77386

,

77387

,

77388

,

77389

,

77391

,

77393

,

77396

,

77401

,

77402

,

77406

,

77410

,

77411

,

77413

,

77417

,

77422

,

77423

,

77429

,

77430

,

77431

,

77433

,

77441

,

77444

,

77445

,

77446

,

77447

,

77449

,

77450

,

77451

,

77459

,

77461

,

77463

,

77464

,

77466

,

77469

,

77471

,

77476

,

77477

,

77478

,

77479

,

77480

,

77481

,

77484

,

77486

,

77487

,

77489

,

77491

,

77492

,

77493

,

77494

,

77496

,

77497

,

77530

,

77535

,

77538

,

77541

,

77542

,

77545

,

77562

,

77587

,